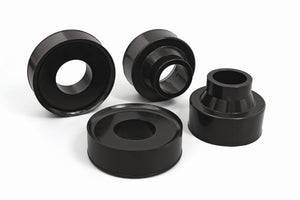 Daystar KJ09113BK
Lift Kit Suspension; ComfortRide ™; 2 Inch Front Lift; 2 Inch Rear Lift; Without Shock Absorbers In Kit - Shock Change Not Necessary; Black Components; With 4 Coil Spring Spacers
Product Description
Comfort Ride kits are specially designed to work with stock suspension components to keep costs down and quality high. High-density Progressive Polyurethane strut and spring spacers act as isolators to combine moderate amounts of lift without losing the comfortable ride you have come to expect. In torsion bar applications, re-indexed torsion keys allow you to "dial-in" the desired amount of lift in order to plus-size tire and wheel packages. These front lifts are often combined with Daystar's Greaseable Super Shackles, add-a-leafs, or blocks and U-bolts to provide complete front and rear kits.
Features & Benefits
High Density Progressive Polyurethane
Lifts Vehicle Without Sacrificing Ride Quality Or Load-Carrying Capacity
Easiest Way To Add Larger Tires And Wheels
Improves Ground Clearance
Upper Coil/Strut Spacer Maintain A Near Factory Ride
New Shocks Or Struts Not Required
Limited Lifetime Warranty
Attributes
Front Lift Amount (IN): 

2 Inch

Rear Lift Amount (IN): 

2 Inch

Front Lift Type: 

Coil Spring Spacer

Rear Lift Type: 

Coil Spring Spacer

Maximum Tire Size: 

31

Shock Type: 

Without Shocks

Wheel Backspacing (IN): 

OEM

Minimum Wheel Diameter: 

OEM

Wheel Offset (MM): 

OEM

Shocks: 

Without Shock Absorbers In Kit - Shock Change Not Necessary

Color: 

Black Components
This Fits
Some vehicles may require additional products. Please click on
next to the vehicle for specific year information.
 

1999-2004 Jeep Grand Cherokee
Alternates
Recommended Items
 

Penetrating Oil

 

Shop Towel

 

Thread Sealant
Supplier Info
Daystar
View Products
DAYSTAR
D78
Urethane Suspension Components, Four Real Steel Tubular Products
Warranty Return Policy:
Return to KAO/NTP for immediate credit.