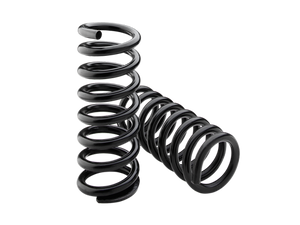 GM- G2500 and G3500 (1996-2002) Extra Heavy Duty Front Coil
350-890XHD2
Increase weight & towing capacity, while maintaining proper height & ride comfort with CargoMaxx Coil springs. 
CARGOMAXX HD coil springs are designed at loaded stock height plus one inch unless otherwise noted in the application guide description. Empty height will vary by application, engine and trim package. Never exceed the manufacturer's suggested GVW.

Increase towing & carrying capacity by 70%.
Standard Rate.
Sold in pairs.
Front Application.
Vehicle Applications (2WD only):

Chevrolet/GMC- Silverado/Sierra (2500 & 3500)- 1988-2006

Ram- 2500, (1994-2013) Remarks: Leveling: IFS
Ram- 3500 (1994-2012) Remarks: Leveling: IFS
 GM-G2500/G3500 (1996-2002)
---
We Also Recommend