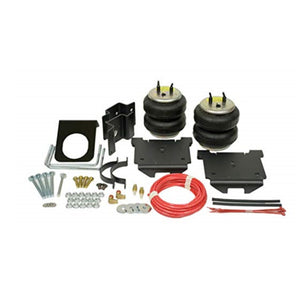 FireStone Ride-Rite Air Spring Kit (Rear, Chevy/GMC 2500HD,3500HD)
W217602250
Install Ride-Rite air bags between your truck's frame and suspension to push your Chevrolet or GMC's safe-load carrying capacity, ride quality, and stability further.
Firestone 2190 Ride-Rite Air Spring Kits are easy to install and even easier to use.
Comfort, confidence, and control. That's what you get when you buy Firestone Ride-Rite air springs.
Enhances safe load-carrying capacity, stability, ride quality, and brake effectiveness
Most kits are No-Drill systems, easily installing in 1-2 hours


Assembled Product Weight (lb) 21
Capacity 4800 lb (2176.87 kg)
Capacity (lb) 4800
Drilling Required No
Location Rear Axle
Brand Name Firestone

Vehicle Fitment:
CHEVROLET
Silverado 2500HD 4WD, 2WD (2001-2010)
| | |
| --- | --- |
| 2001 | Silverado 2500HD 4WD, 2WD |
| 2002 | Silverado 2500HD 4WD, 2WD |
| 2003 | Silverado 2500HD 4WD, 2WD |
| 2004 | Silverado 2500HD 4WD, 2WD |
| 2005 | Silverado 2500HD 4WD, 2WD |
| 2006 | Silverado 2500HD 4WD, 2WD |
| 2007 | Silverado 2500HD 4WD, 2WD |
| 2008 | Silverado 2500HD 4WD, 2WD |
| 2009 | Silverado 2500HD 4WD, 2WD |
| 2010 | Silverado 2500HD 4WD, 2WD |
Silverado 3500HD 2WD, 4WD (2001-2010)
| | |
| --- | --- |
| 2001 | Silverado 3500HD 2WD, 4WD |
| 2002 | Silverado 3500HD 2WD, 4WD |
| 2003 | Silverado 3500HD 2WD, 4WD |
| 2004 | Silverado 3500HD 2WD, 4WD |
| 2005 | Silverado 3500HD 2WD, 4WD |
| 2006 | Silverado 3500HD 2WD, 4WD |
| 2007 | Silverado 3500HD 2WD, 4WD |
| 2008 | Silverado 3500HD 2WD, 4WD |
| 2009 | Silverado 3500HD 2WD, 4WD |
| 2010 | Silverado 3500HD 2WD, 4WD |
GMC
Sierra 2500HD 2WD, 4WD (2001-2010)
| | |
| --- | --- |
| 2001 | Sierra 2500HD 2WD, 4WD |
| 2002 | Sierra 2500HD 2WD, 4WD |
| 2003 | Sierra 2500HD 2WD, 4WD |
| 2004 | Sierra 2500HD 2WD, 4WD |
| 2005 | Sierra 2500HD 2WD, 4WD |
| 2006 | Sierra 2500HD 2WD, 4WD |
| 2007 | Sierra 2500HD 2WD, 4WD |
| 2008 | Sierra 2500HD 2WD, 4WD |
| 2009 | Sierra 2500HD 2WD, 4WD |
| 2010 | Sierra 2500HD 2WD, 4WD |
Sierra 3500HD 2WD, 4WD (2001-2010)
| | |
| --- | --- |
| 2001 | Sierra 3500HD 2WD, 4WD |
| 2002 | Sierra 3500HD 2WD, 4WD |
| 2003 | Sierra 3500HD 2WD, 4WD |
| 2004 | Sierra 3500HD 2WD, 4WD |
| 2005 | Sierra 3500HD 2WD, 4WD |
| 2006 | Sierra 3500HD 2WD, 4WD |
| 2007 | Sierra 3500HD 2WD, 4WD |
| 2008 | Sierra 3500HD 2WD, 4WD |
| 2009 | Sierra 3500HD 2WD, 4WD |
| 2010 | Sierra 3500HD 2WD, 4WD |
---
We Also Recommend