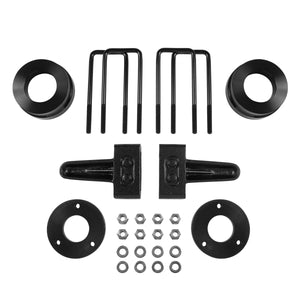 Pro Comp Suspension 62206K
Lift Kit Suspension; 2-1/2 To 3 Inch Front Lift; 1/2 To 1-1/2 Inch Rear Lift; Without Shock Absorbers In Kit - Shock Change Not Necessary; Black Components; With Front Strut Assembly Spacer/ Rear Lift Blocks/ U Bolts/ Installation Hardware
Product Description
Pro Comp Nitro Kits are the economical alternative to a complete suspension system. The Nitro Kits utilize coil spring spacers, torsion keys, and strut spacers to achieve front lift. This leaves the factory steering geometry intact, preserving factory ride quality and handling. The rear lift is achieved through coil spring spacers or lift blocks. If you want to add larger aftermarket wheels and tires to your rig without installing a complete suspension lift kit, Pro Comps Nitro Kits were designed with you specifically in mind.
Features & Benefits
Limited Lifetime Warranty
Attributes
Front Lift Amount (IN): 

2-1/2 To 3 Inch

Rear Lift Amount (IN): 

1/2 To 1-1/2 Inch

Front Lift Type: 

Strut Assembly Spacer

Rear Lift Type: 

Leaf Spring Block

Shock Type: 

Without Shocks

Shocks: 

Without Shock Absorbers In Kit - Shock Change Not Necessary

Color: 

Black Components
This Fits
Some vehicles may require additional products. Please click on
next to the vehicle for specific year information.
Kit
Recommended Items
Supplier Info
Pro Comp Suspension
View Products
PRO COMP SUS
E37
Lift Kits, Shocks, Off Road Accessories
Warranty Return Policy:
Please contact customer service for warranty information and return entry.
---
We Also Recommend